Welcome to the RPCV's of Houston
We are the home of the Houston Area Returned Peace Corps Volunteers. Our group started in 1985 and has been going strong for 30 years.
Seeds of Sharpstown- Nov. 17th @ 6PM Please see our Coming Events Page
December 5th - Annual Holiday Party
See the Coming Events page for all the details
Volunteer Opportunity: Check out this wonderful chance to mentor Middle and/or HS students that are new refugees to Houston. Click HERE
Peace Corps Houston makes the news again!
Our local Peace Corps recruiter, Jason Steele, our President, David Scheinman, and our Membership/Data, Ken Fraley, were interviewed on public affairs radio about Peace Corps. If you missed the pod casts on July 5th, you can still check out the interview. See below.
You can listen to the podcast and download it form this page:
http://www.sunny99.com/onair/houston-public-affairs-36776/the-peace-corps-13732449/
Did you know that we have a partnership with Big Brothers and Big Sisters of Houston? Click here to learn more.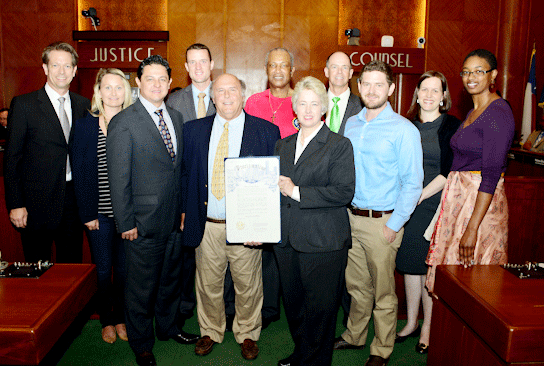 Peace Corps Week
See our Peace Corps Week Proclamation from Mayor Parker Click Now The official presentation of the Proclamation was Tuesday March 19th at City Hall(see photo above). CLICK to see the VIDEO of the presentation.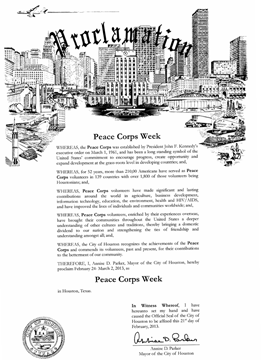 NEWS:
Check out NPR's program "Houston Matters"
Two members of our group--Alexus Sham, Mali, and Ed Pettitt, Botswana, were interviewed on public radio station KPRC 88.7 FM. The program is "Houston Matters" their segment is called "Houstonians in the Peace Corps".
To hear the re-broadcast go to:
h
ttp://www.houstonmatters.org/