Welcome to the RPCV's of Houston Website
We are the home of the Houston Area Returned Peace Corps Volunteers. Our group started in 1985 and has been going strong for 30 years.
Houston RPCV Camping trip !! March 6th weekend.
See the Coming Events page for more details.
March Reconnect will be on a SUNDAY!!! March 29th in Cypress, TX
Since this is a bit further out of town than most Reconnects, we will do it on a Sunday...late afternoon. 5PM See our Coming Events page for more info.
Our Annual Meeting had a nice turnout with two new members joining the board: Welcome Brandon and Shawn. Please see the photos on the Photos page.
We met the PRESIDENT on Jan. 26th: Glenn Blumhorst (Guatemala 89-91), National Peace Corps Association President. See our Photo page for the pictures. Click here to see his message to our group dated 2/7/15.
Happy Hour: 2nd Thursday of each month at Jackson's Watering Hole.
Latest NEWS (1-26-15) from our Southern Tier Rep: Angie Harris. Click here for her newsletter and how to support Peace Corps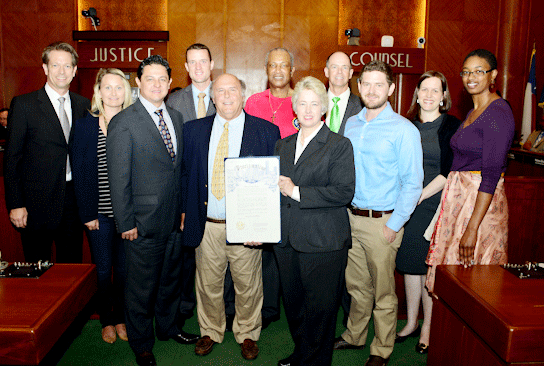 Peace Corps Week
See our Peace Corps Week Proclamation from Mayor Parker Click Now The official presentation of the Proclamation was Tuesday March 19th at City Hall(see photo above). CLICK to see the VIDEO of the presentation.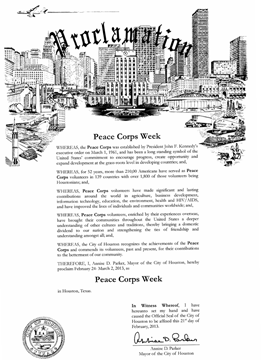 NEWS:
Check out NPR's program "Houston Matters"
Two members of our group--Alexus Sham, Mali, and Ed Pettitt, Botswana, were interviewed on public radio station KPRC 88.7 FM. The program is "Houston Matters" their segment is called "Houstonians in the Peace Corps".
To hear the re-broadcast go to:
h
ttp://www.houstonmatters.org/