Welcome to the RPCV's of Houston Website
We are the home of the Houston Area Returned Peace Corps Volunteers. Our group started in 1985 and has been going strong for 29 years.
This just in: New Job Opening, see our Job Listing page.
National Peace Corps Assoc. elections run now through April 30th. Members please vote as there is a Southern Tier opening with 3 great candidates. See there information here: http://www.peacecorpsconnect.org/board-elections-2014/
A request for RPCV's to do a survey for a PhD candidate. If interested, click HERE for the information and the link to the survey.
Click our link to the right: Member Profiles. A new profile has posted of John Shirk, RPCV Morocco 1998-2001
NEW information from PC about recruitment requirements/ changes Click HERE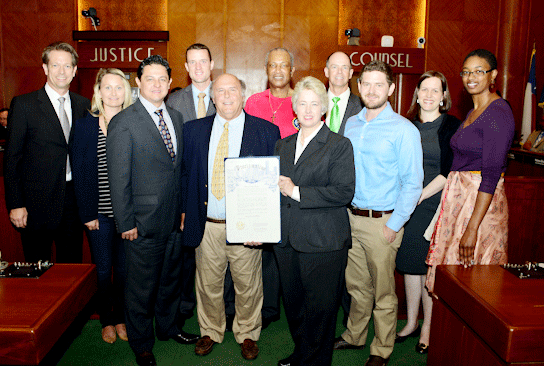 John Blake, member and guest speaker at our Annual Meeting in 2012, passed away in September after a battle with cancer. Please see his profile: http://www.peacecorpshouston.org/JBlake.htm
Peace Corps Week
See our Peace Corps Week Proclamation from Mayor Parker Click Now The official presentation of the Proclamation was Tuesday March 19th at City Hall(see photo above). CLICK to see the VIDEO of the presentation.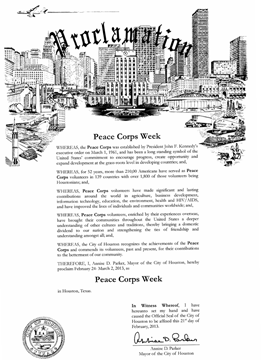 NEWS:
Check out NPR's program "Houston Matters"
Two members of our group--Alexus Sham, Mali, and Ed Pettitt, Botswana, were interviewed on public radio station KPRC 88.7 FM. The program is "Houston Matters" their segment is called "Houstonians in the Peace Corps".
To hear the re-broadcast go to:
h
ttp://www.houstonmatters.org/